An MPO fiber optic patch cord can support 12-72 cores or even 96 cores of optical fiber connections, which can meet the high-density transmission requirements of 40G and 100G optical fiber networks in data centers. With the increasing demand for data center transmission, the future large-capacity, high-speed data transmission will inevitably bring broad market prospects to MPO fiber optic patch cables.
MPO fiber optic patch cables can realize multi-core connection. The modular design of the connector is easy to operate, easy to install, remove, and adjust, which saves installation time and indirectly saves labor costs in the construction of the data center. The wiring of the MPO fiber optic patch cable adopts modular connection, and the density of optical fiber wiring is improved through the distribution frame, connection box and special installation board, and the space occupied by the wiring is minimized.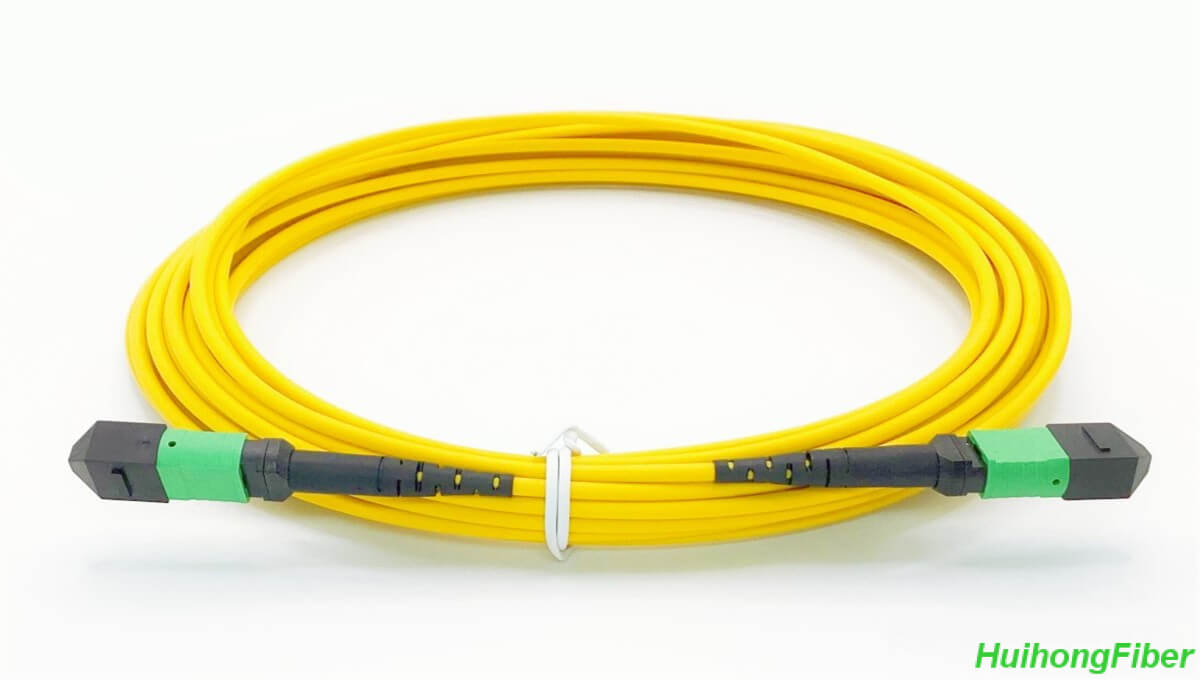 | Parameters | Value | Parameters | Value |
| --- | --- | --- | --- |
| Connector Type | MPO Female to MPO Female | Polish | APC to APC |
| Insertion Loss | ≤0.7dB | Return Loss | ≥55dB |
| Jacket Material | LSZH | Jacket Color | Yellow |
OS2 single mode MPO trunk cable is factory pre-terminated 9/125 OS2 single mode MPO to MPO cable, which offers the user the advantage of consistent quality, much faster installation, and simpler cable management. The MPO fiber optic trunk cable is manufactured with multiple 12-wire female to female MPO connectors to give 12 core fiber cables. The trunk cable conforms to Method B polarity (Cross-Connect) and the MTP® connector is available upon request. This MPO trunk cable is suitable for use in 40G QSFP + PIR4, 40G QSFP + PLR4, 100G QSFP28 PSM4, 400G OSFP DR4, 400G OSFP XDR4, 400G QSFP-DD DR4 and 400G QSFP-DD XDR4 parallel transceiver optical connection.
Features
• Factory finished, provide consistent quality, high performance, and reduce installation time
• 100% tested for low insertion loss performance and high back reflection
• Fiber count: 12 fiber trunk cable
• Suitable for MPO application
• Singlemode OS2 fiber
• Type B polarity, used for 40G PSM4 QSFP +, 100G PSM4 QSFP28, 400G DR4 / XDR4 OSFP or QSFP-DD transceiver module
• Optimized performance – available in elite MPO and discrete premium connector upon request
• Comply with IEC 61754-7, TIA / EIA 604-5, Telcordia GR-1435-CORE and RoHS
• LSZH jacket by default