When the link is less than 300 meters, OM3 MPO fiber optic patch cables can be used in both Gigabit and 10 Gigabit systems. When the link is less than or equal to 1000 meters and greater than 300 meters, the OM3 MPO fiber patch cords can be used in the gigabit system. This means that users do not need to use expensive laser devices when the distance between buildings exceeds 550 meters. When the link is less than or equal to 2000 meters and greater than 1000 meters, OM3 fiber trunk cables can also increase the transmission distance of Gigabit and 10 Gigabit systems. Using 850nm wavelength optical modules in conjunction with VCSELs is the most cost-effective cabling solution.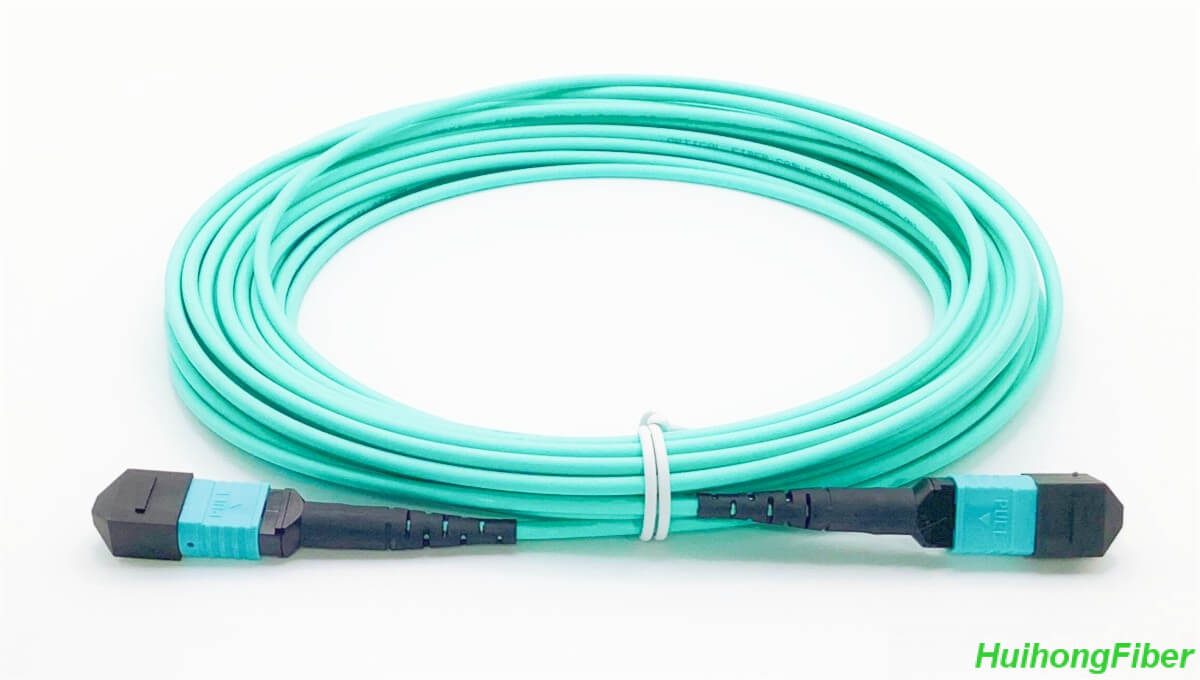 Parameters
Value
Parameters
Value
Fiber Type
50/125µm Multimode OM3
Fiber Count
12-Fiber
Connector Type
MPO Female to MPO Female
Polish
PC to PC
Cable Length
1m,2m,3m … 300m or Customize
Cable Diameter
3.0 mm
Insertion Loss
≤0.6dB
Return Loss
≥20dB
Polarity
Type B (Crossover)
Durability
≥200 times
Jacket Material
LSZH
Jacket Color
Aqua
Environment
Operating: -20°C to 70°C
Storage: -40°C to 85°C
Application
Optical switching interframe connections
High-density fiber card edge access
Array trunk cables, data centers
The requirements for data center infrastructures are increasing as the rapid growth in the use of IT continues around the world. As an experienced and innovative fiber optic cable manufacturer, Sunrise Photonics supplies complete MPO fiber optic cabling solutions for high density optical connectivity in the modern data center. Compared to classic fiber optic cabling solutions, this high-density fiber optic solution offers greater flexibility and space savings, while supporting very high data rates such as 10 Gigabit, 40 Gigabit Ethernet, and 100 Gigabit Ethernet.
Features
• Factory finished, provide consistent quality, high performance, and reduce installation time
• 100% tested for low insertion loss performance and high back reflection
• Fiber count: 12 fiber trunk cable
• Suitable for MPO application
• OM3 multimode fiber
• Type B polarity, used for 40G QSFP SR4 and 100G QSFP28 SR4 optics
• Optimized performance: available in elite MTP and discrete premium connector upon request
• Comply with IEC 61754-7, TIA / EIA 604-5, Telcordia GR-1435-CORE and RoHS
• LSZH jacket by default