The OS2 single mode MPO fiber patch cable are made for termination to meet 40G/100G Ethernet and support high-bandwidth applications that occupy the smallest physical space high-density solutions, with strong MPO/MTP product design and process capabilities, we can provide customers with a variety of customized products and solutions. All OS2 MPO-LC fiber cables have been strictly tested before leaving the factory to ensure that the end faces are spotless, and the insertion loss and return loss are in line with international telecommunication standards.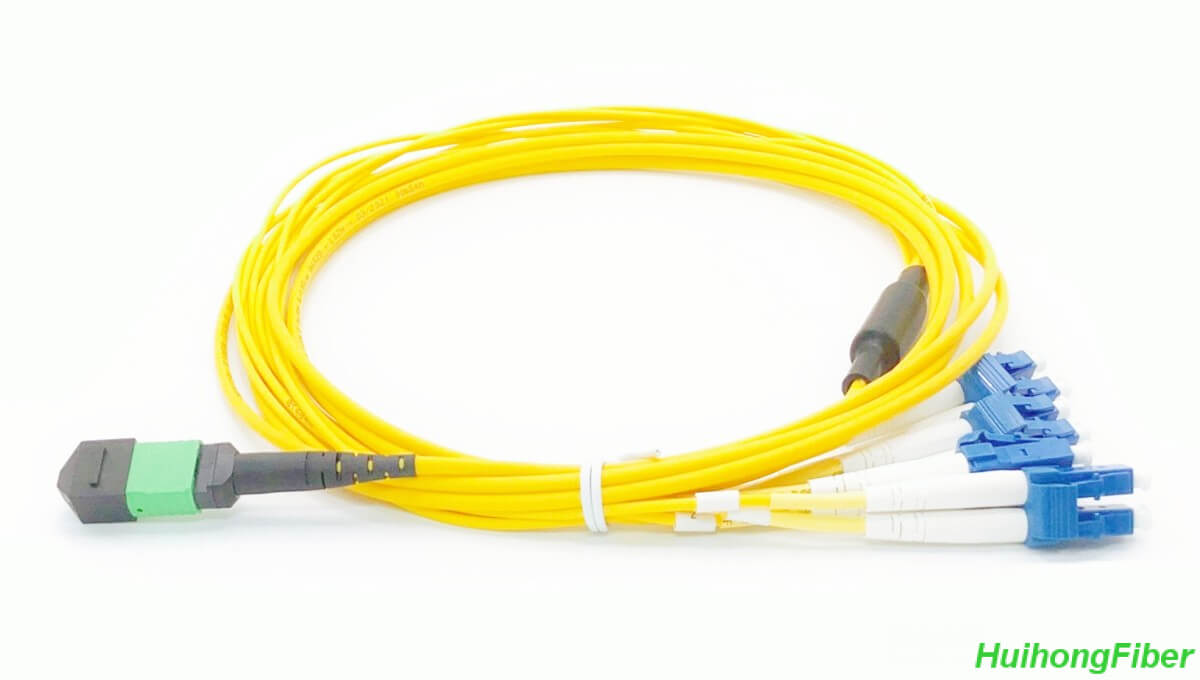 | Parameters | Value | Parameters | Value |
| --- | --- | --- | --- |
| Connector A | MPO Female (Pinless) | Connector B | LC UPC Duplex |
| Fiber Mode | OS2 SMF 9/125μm | Wavelength | 1310/1550nm |
| MPO Connector IL | 0.35dB Max (0.15dB Typ.) | LC Connector IL | ≤0.2dB |
| MPO Connector RL | ≥60dB | LC Connector RL | ≥50dB |
| Attenuation at 1310nm | ≤0.32dB/km | Attenuation at 1550nm | ≤0.18dB/km |
| Cable Jacket | LSZH | Fiber Count | 8 Cores |
| Jacket OD | 3.0mm | Fan-Out Diameter | 2.0mm |
| Installation Tensile Load | 100 N | Long-Term Tensile Load | 50 N |
| Storage Temperature | -40°C to +85°C | Operating Temperature | -10°C to +70°C |
MPO Breakout cable, a cost-effective alternative to time-consuming field termination, is designed for high-density fiber patching in data centers which need space saving and reduce cable management troubles. With quality MPO connectors and OS2 optical fiber, it is optimized for 40G QSFP+ PLR4 to 10G SFP+ LR, 400G OSFP/QSFP-DD DR4 to 100G QSFP DR and 400G OSFP/QSFP-DD XDR4 to 100G QSFP FR optics direct connection and high-density data center applications.
The MTP/MPO connection standard is a miniaturized high-density optical fiber connector standard. A single connector is equipped with a multi-core ribbon optical fiber with high density and stable and reliable connection. The MTP/MPO wiring system includes backbone optical cables, MTP/MPO module plug-in boxes, optical fiber distribution boxes and various jumpers. The MTP/MPO high-density wiring system completes the termination and testing of high-density optical fiber connectors and ribbon optical cables in the factory, plug and play in the field and equipment, supports rapid deployment of user data centers, and is a growing data center with high capacity The ideal solution in the context of wiring requirements.
Features
• Factory finished, provide consistent quality, high performance, and reduce installation time
• 100% tested for low insertion loss performance and high back reflection
• Fiber count: 12 fiber trunk cable
• Suitable for MPO application
• Singlemode OS2 fiber
• Type B polarity, used for 40G PSM4 QSFP +, 100G PSM4 QSFP28, 400G DR4 / XDR4 OSFP or QSFP-DD transceiver module
• Optimized performance – available in elite MPO and discrete premium connector upon request
• Comply with IEC 61754-7, TIA / EIA 604-5, Telcordia GR-1435-CORE and RoHS
• LSZH jacket by default