In data centers, 12-fiber MTP/MPO cables are commonly used for high-density backbone cabling for 40G/100G connections, but this can result in fiber waste as only eight of the fibers are utilized. As a more cost-effective solution, an 8-fiber MTP/MPO system is preferred for 40G/100G backbone networks. MTP/MPO conversion cables can effectively solve this problem by converting the previously designed base-12 backbone to the currently popular base-8 and base-24 backbones.
MTP conversion cables are terminated with MTP connectors on both ends and provide more flexibility for existing 24-fiber cabling systems compared to MTP harness cables. 40/100G MTP conversion cables eliminate fiber waste in current 40G transmission and upcoming 100G transmission, providing a lower-loss option than purchasing and installing separate conversion cassettes.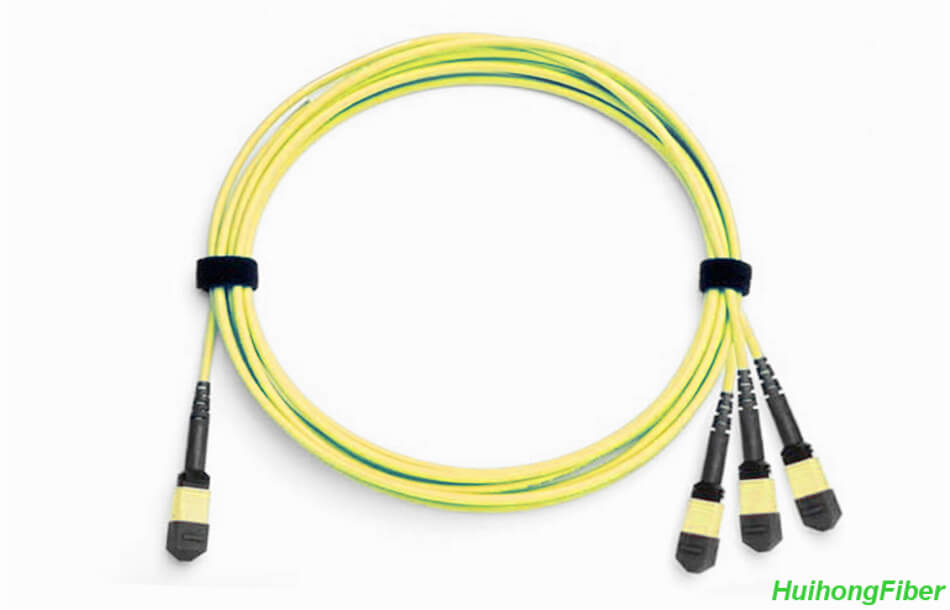 | Parameter | Value | Parameter | Value |
| --- | --- | --- | --- |
| Fiber Connector | MPO/MTP | Gender | Female |
| Fiber Mode | OS2 9/125μm | Wavelength | 1310/1550nm |
| Glass Fiber | Single mode | Polish Type | APC to APC |
| Insertion Loss | 0.35dB Typ. | Return Loss | >=60dB |
| Attenuation at 1310nm | <=0.32dB/km | Attenuation at 1550nm | <=0.18dB/km |
| Cable Jacket | Plenum (OFNP)/LSZH | Minimum Bend Radius | 10mm |
| Jacket OD | 3.0mm | Breakout Length | 0.5m |
| Installation Tensile Load | 66N | Tensile Strength (Long/Short Term) | 80/240N |
| Operating Temperature | -10 to 70°C (14 to 158℉) | Storage Temperature | -40 to 85°C (-40 to 185℉) |
This MTP/MPO conversion cable is terminated with a 24-fiber MTP/MPO connector on one end and three 8-fiber MTP/MPO connectors on the other end. This allows a base-24 backbone link to be converted into three base-8 cables to achieve 40G to 120G deployment. When connected to 40G, this conversion cable can create three 40G interfaces for QSFP+ modules, utilizing all 24 fibers for three 40G dual-way transmissions in the existing 24-fiber MTP/MPO cable. Additionally, 24-fiber to 3×8-fiber MTP/MPO conversion cables can be used to break the 120G CXP module signals into three 40G QSFP+ links for migration from 40G to 120G networking.
MTP/MPO conversion cables increase the capacity of existing 12-fiber and 24-fiber MTP/MPO networks and provide a cost-effective solution for 40G/100G/120G connections. Three different types of MTP/MPO conversion cables are available to fit different networking environments, based on current demands and future network migration planning.