The MTP conversion cable is designed to offer a more flexible multi-fiber cabling system using MTP products. Unlike MTP harness cables, MTP conversion cables feature MTP connectors on both ends, providing greater possibilities for existing 16-fiber cabling systems. Compared to purchasing and installing separate conversion cassettes, MTP conversion cables are a more cost-effective and lower-loss option.
MTP/MPO conversion cables have the same fanout design as MTP/MPO breakout cables but differ in fiber counts and types. They are terminated with MTP/MPO connectors on both ends, including 24-fiber to 2×12-fiber, 24-fiber to 3×8-fiber, and 2×12-fiber to 3×8-fiber MTP/MPO conversion cables. These cables are especially ideal for 10G-40G, 40G-40G, 40G-100G, 40G-120G connections, reducing fiber waste and increasing the flexibility of MTP/MPO cabling systems.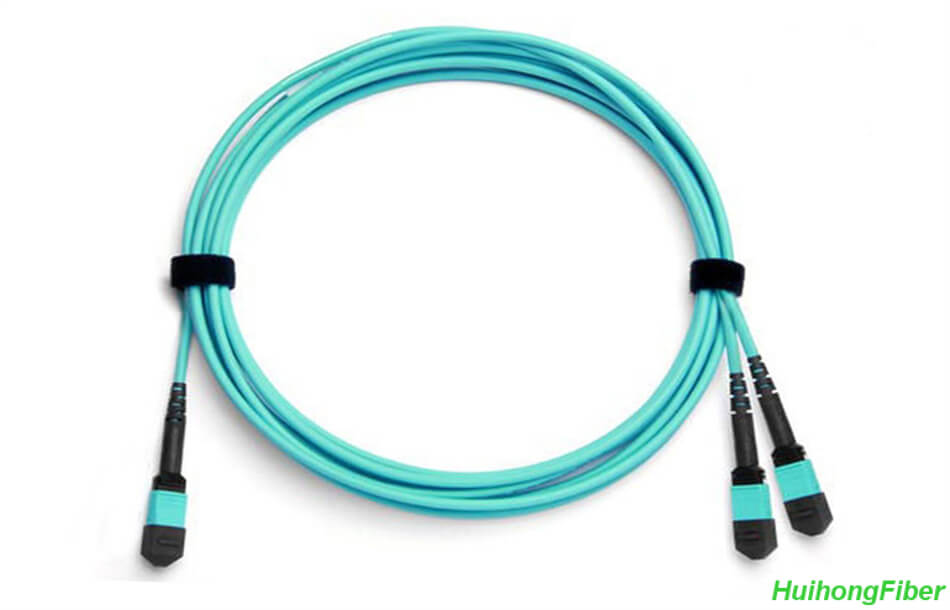 | Parameters | Value | Parameters | Value |
| --- | --- | --- | --- |
| Fiber Connector | MPO/MTP | Gender | Female |
| Fiber Mode | OM4 50/125μm | Wavelength | 850/1300nm |
| Glass Fiber | Multimode | Polish Type | UPC to UPC |
| Insertion Loss | 0.35dB Typ. | Return Loss | ≥20dB |
| Attenuation at 850nm | ≤2.3dB/km | Attenuation at 1300nm | ≤0.6dB/km |
| Cable Jacket | Plenum (OFNP)/LSZH | Minimum Bend Radius | 7.5mm |
| Jacket OD | 3.0mm | Breakout Length | 0.5m |
| Installation Tensile Load | 66N | Tensile Strength (Long/Short Term) | 80/240N |
| Operating Temperature | -10 to 70°C (14 to 158℉) | Storage Temperature | -40 to 85°C (-40 to 185℉) |
MPO (Multi-Fiber Push-on) is the first-generation clip clamping multi-core optical fiber connector, while MTP is an advanced version with better mechanical and optical performance, registered by US Conec Ltd. They are compatible and intermateable, and there are three MTP/MPO cable types: MTP/MPO Trunk Cables, MTP/MPO Harness Cables, and MTP/MPO Conversion Cables.
MTP/MPO cables consist of MTP/MPO connectors and optical fibers. MTP/MPO connectors come in female (without pins) or male (with pins) types and increase cable density, saving circuit card and rack space. They are well-suited for current 40G/100G cabling and future network speed upgrades.
MTP/MPO cable types are defined by five performances: function, polarity, fiber count, fiber mode, and jacket rating. Huihongfiber offers customized MTP/MPO cables, including trunk cables, breakout cables, and conversion cables, suitable for high-density cabling networks, providing better network capacity and flexibility.
MTP/MPO trunk cables are terminated with an MTP/MPO connector (female/male) on both ends, available in 8-144 fiber counts. Typically, these multi-fiber MTP/MPO trunk cables are ideal for structured cabling systems, including backbone and horizontal interconnections such as 40G-40G and 100G-100G direct connections.
MTP/MPO breakout cables (also known as harness cables or fanout cables) are terminated with a female/male MTP/MPO connector on one end and 4/6/8/12 duplex LC/FC/SC/ST connectors on the other end, such as 8-fiber MTP/MPO to 4 LC harness cables and 12-fiber MTP/MPO to 6 LC harness cables. Typically, these breakout cables are ideal for short-range 10G-40G and 25G-100G direct connections or for connecting backbone assemblies to a rack system in high-density backbone cabling.