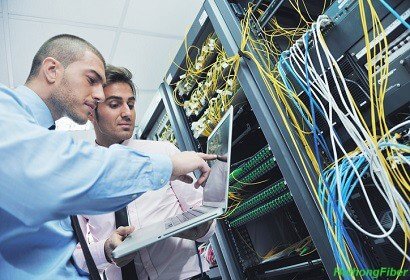 Data Centers and Fiber Optics

Data centers around the world can no longer count on older technology and need to upgrade to fiber optic solutions if they haven't already. There is a huge disparity between the network systems of today and yesterday and innovative technologies must come into play in order for companies to remain competitive and meet the internal requirements of their data centers.
Copper used to be the go-to solution for data centers but that time has long gone. Copper transceivers consume approximately 10 times as much power as their rival fiber transceivers. Fiber optics provides power along with cost-efficiency and is used extensively nowadays in structured data center cabling environments.
Fiber also provides greater bandwidth with no errors when data needs to travel a long distance. It is also easier to test, weighs less and takes up less space than its copper counterpart. Fiber leads the way to high speed network protocols and interfaces through its ability to support higher rates of data. In most cases, laser optimized OM4 and OM3 is usually recommended due to their capabilities to handle more bandwidth.
MPO connectors are commonly used for backbone cabling and can directly link the active devices to the cabling. In fact, the connector format of the MPO has become an industry standard and they are available in a number of styles. MTP connectors are often used to customize card edges of equipment, patch panels and breakout modules.
Nowadays, a data center must rely on its Internet fiber optic connection to a number of different providers. This provides redundancy and multiple cables must be used to make connections with these other communication networks. The racks in the data center accept the incoming cables, which then connect to routers and the data center's servers. Fiber optic technology allows large amounts of data to be sent at a speed of 10-100 GB/s.
The goal of any data center is to avoid as much latency as possible while moving data at lightning speeds. The need to send data quickly in vast amounts is becoming more crucial every day and the field of fiber optics is constantly being updated with new products that can deliver more speed.