7M Cisco QSFP-H40G-CU7M Compatible 40G QSFP+ Passive Direct Attach Copper Cable.Qsfp-40g-dac-pxm direct-attached copper components (also known as dac) are suitable for very short distances and provide a cost-effective way to establish 40 gigabit link connections between devices using the qsfp port. The qsfp-dac cable is designed for 40gb/s high-speed connected network applications such as high-performance computing (hpc), enterprise networking (including the top rack switching and network storage market). It is fully compliant with qsfp and multi-source protocol (msa) standards sff-8436 and ieee 802.3ba 40gbase-cr4.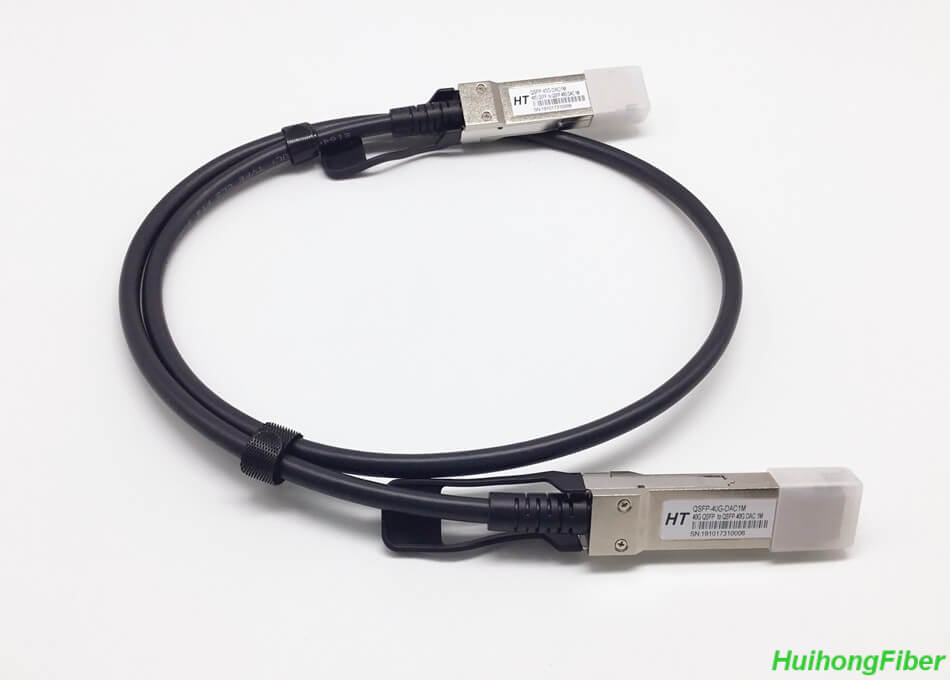 Huihong Fiber's high-quality qsfp-dac copper cable provides a cost-effective alternative to qsfp plus transceivers and qsfp-active fibers (aoc). Qsfp-40g-dac-p7M-csc dac copper cables are programmed to be compatible with a variety of Cisco network devices for in-rack connections in data centers such as 40ge switches, routers, network interface cards (nics) and network storage systems.
It has proven to be a cost-effective alternative to a high-cost Cisco qsfp-h40g-cu7M 40gb/s qsfp-7M direct connection to copper cables.
Characteristics
Lower cost than qsfp and optical transceivers and active fiber optic cables (aoc)
Maximum aggregated data rate: 40 GB/s (4 x 10 GB/s)
Hot-swapq qsfp-38-pin package
Single 3.3V power supply
Meet ieee 802.3ba 40gbase-cr4 standard
In compliance with QSFP and MSA SFF-8436
Compliant with Infiniband QDR/DDR data rate
Maximum 1.5W operating power
Operating temperature range: 0 to 70 degrees C RoHS compliant and lead-free
| Parameters | Value | Parameters | Value |
| --- | --- | --- | --- |
| Cisco Compatible | QSFP-H40G-CU7M | Vendor Name | Huihongfiber |
| Connector Type | QSFP+ to QSFP+ | Max Data Rate | 40Gbps |
| Minimum Bend Radius | 37Mm | Wire AWG | 28AWG |
| Cable Length | 7M | Jacket Material | PVC(OFNR) |
| Temperature | 0 to 70°C (32 to 158°F) | Protocols | 40G InfiniBand 8x DDR, 4x QDR, 10G/40Gigabit Ethernet, Fibre Channel |